End-of-Waste Self-assessments
With diminishing natural resources, it has become even more critical to prolong the lifecycle of materials through adoption of circular economy models. The re-use and recycle of materials can be severely restricted within the EU if the material exhibits waste status. To support recycling and re-use throughout the EU, EU legislation provides for substances or material that has become waste at the end of its life cycle to become a secondary raw material, subject to certain conditions.
As part of our guide to navigating waste recovering legislation and compliance, we will explain the most important procedures throughout the EU for handling recovered substances from waste in a regulatory context. In this post, we discuss determining the End-of-Waste status by self-assessment.
For our guide on determining the End-of-Waste status of recovered substances by application to a competent authority, click here!.
How can waste cease to be waste?
Substances classified as waste may cease to be waste when they have undergone a recovery operation and fulfil a number of criteria.
The Waste Framework Directive defines criteria at an EU-wide level. It also provides provisions for Member States to develop their own criteria under which recovered materials could cease to be waste. These are the so called End-of-Waste criteria.
The importance for recovery operators and recyclers of waste substances?
Recovery operators that process and upgrade waste material to a substance or product for the EU market need to determine and fulfil their compliance obligations. This can only be done if it is understood whether the substance or product has reached End-of-Waste status, or whether it should still be considered waste. This is important as the status determines whether relevant waste legislation (e.g. the Waste Framework Directive) still apply, or whether other legislation and compliance obligations are relevant.
Determining the End-of-Waste Status
EU-wide regulation
The Waste Framework Directive specifies EU-wide product specific criteria. A recovered substance covered by, and complying with any of the EU-wide specific criteria would be deemed not to be waste across the EU. However, at present, only a limited number of substances would be covered by these criteria.
What about recovered substances not covered by EU-wide criteria?
The majority of recovered products handled within the EU are not covered at EU-level. Instead, End-of-Waste status is determined at national or regional level. Similarly to the EU-wide level, product specific criteria may also be established at this level. Should no relevant specific criteria exist, then the end-of-waste status of a material is evaluated according to the national or regional procedure.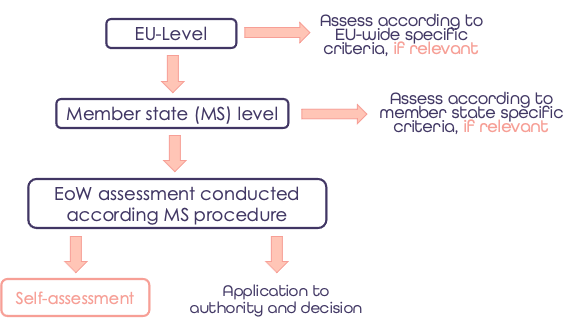 The relevant procedure differs between member states and regions. The two primary methods of evaluation are a self-assessment conducted by the recovery operator, and a decision by the competent authority on the basis of an application.
In this post, we discuss, in further detail, End-of-Waste status self-assessment. To learn more about applications to the authorities for a decision on the End-of-Waste status, click here!
End-of-Waste Self-assessments
When no specific EoW criteria at EU or national/regional level exist for a recovered substance, a competent authority can require that a self-assessment is carried out by the recovery operator to determine the waste status of the recovered material.
The EoW self-assessment, therefore, allows recovery operators to self-certify whether their material meets the End-of-Waste of the Member State/region of relevance.
The competent authority may rely solely on a self-assessment by the recovery operator, in combination with random compliance checks or may utilise a self-assessment as the first step to identifying the EoW status of a material (i.e. the self-assessment forms the basis of an application to the authority for a decision on the EoW status).
Typically, the self-assessment will involve the recovery operator assessing attributes of the recovered substance and process against a number of criteria. The exact criteria may differ between Member States and regions, however, they remain based on criteria defined in the Waste Framework Directive.
End-of-Waste Criteria
Article 6(1) of the Waste Framework Directive provides the fundamental criteria that must be satisfied for a material, which has undergone a recovery process, to be considered End-of-Waste.
Criteria (a): the substance or object is commonly used for specific purposes
To satisfy this criteria, an analysis of potential uses is required to demonstrate that the material or substance has a specific purpose and will not be discarded.
Criteria (b): a market or demand exists for such a substance or object
To best meet this criteria, a market analysis should be provided with anticipated forecasts for the demand of the recovered material.
Criteria (c): the substance or object fulfils the technical requirements for the specific purposes and meets the existing legislation and standards applicable to products
The recovery operator should have a strong knowledge of technical standards and regulations applicable to the intended uses of the recovered material and provide evidence that the material meets these requirements without any further processing.
Criteria (d): the use of the substance or object will not lead to overall adverse environmental or human health impacts
A risk assessment and environmental impact comparison needs to be conducted to show that overall environmental and human health impacts are controlled.
Additional guidance and supportive sources
Complementary to assessing the End-of-Waste status against the EU-wide EoW criteria, additional guidance issued by the Member State may be available, allowing recovery operators to conduct the self-assessment tailored to the Member State requirements.
Furthermore, other supportive sources that support the self-assessment should be consulted, for example; advisory judgements provided by the competent authority or court rulings on similar substances.
Why is a correct self-assessment important?
A correct self-determination of the End-of-Waste status is important both for the recovery operator as for all stakeholders within the EU as the drive towards a truly circular economy continues.
A correct assesment:
– Facilitates and promotes recycling, whilst ensuring a high level of environmental protection
– Reduces the consumption of natural resources and overall volume of waste produced
– Increases the sustainability of products throughout the EU
– Provides clarity and certainty for recovery operators regarding their compliance obligations
How Apeiron can help
Conducting a complete and adequate self-assessment, is no simple task. It is critical to ensure an objective judgement is made on the basis of sufficient evidence that can withstand scrutiny in the event of a compliance check.
Apeiron can provide support in all aspects of an EoW self-assessment, particularly, Apeiron can:
– Guide clients in understanding the requirements of a self-assessment in EU Member States & regions
– Conduct an objective assessment of the recovered material
– Recommend improvements to avoid compliance issues with the Authorities
– Clarify and assist clients with subsequent obligations once the recovered material has reached End-of-Waste (e.g. REACH registration, Article 2(7)(d) exemption)
Still unsure if obtaining End-of-Waste status for your recovered substance is required? We also offer support to companies to help decide the best route forward for ensuring regulatory compliance of your recovered substance.
Contact our expert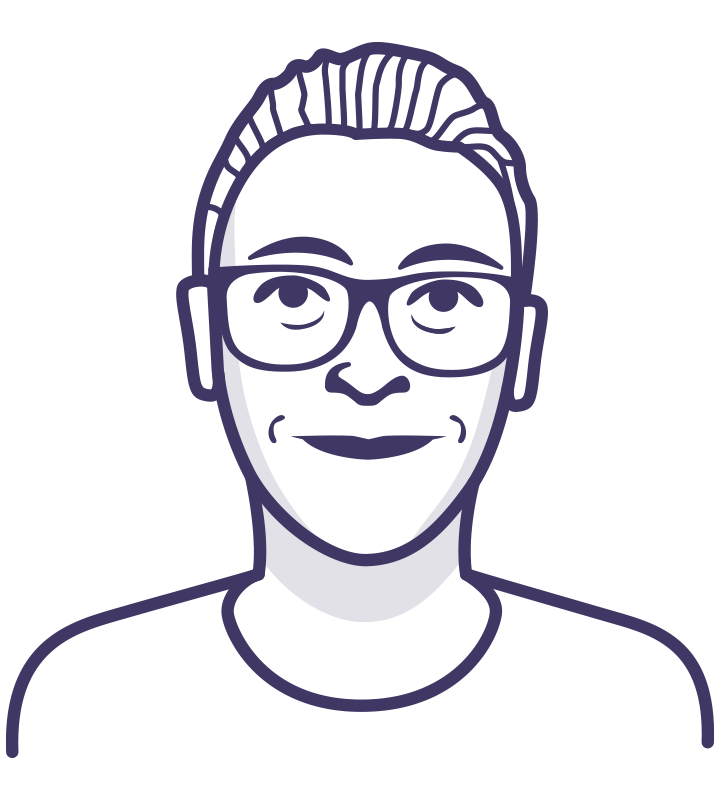 Posted by
Thomas Upcraft